Cherry pie, cherry pancakes and cherry pastries galore. Lavender fields with 30,000 plants. Twenty-four county and state parks with endless miles of hiking trails, 53 swimming beaches with pristine water, 11 golf courses and 9 wineries. Welcome to Door County, Wisconsin, one of the state's most popular tourist destinations. With a year-round population of nearly 30,000, the county attracts over two million visitors yearly. In late August, my wife, Sharen, and I set out to discover why.
Most of the time we drove through thick, second-growth forests interspersed with cherry orchards or lush, green farm fields. We noted that there were no national chain restaurants and no buildings taller than three stories among the 19 small communities (generally called villages) scattered throughout the peninsula.
We were late for the fresh cherry season, but the next time we visit we will have to choose between mid-May, when 2500 acres of cherry trees are in full blossom, and mid-July to mid-August when cherries are ripe for picking (see https://www.doorcounty.com/experience/cherries for timetables and nine orchards available for cherry picking).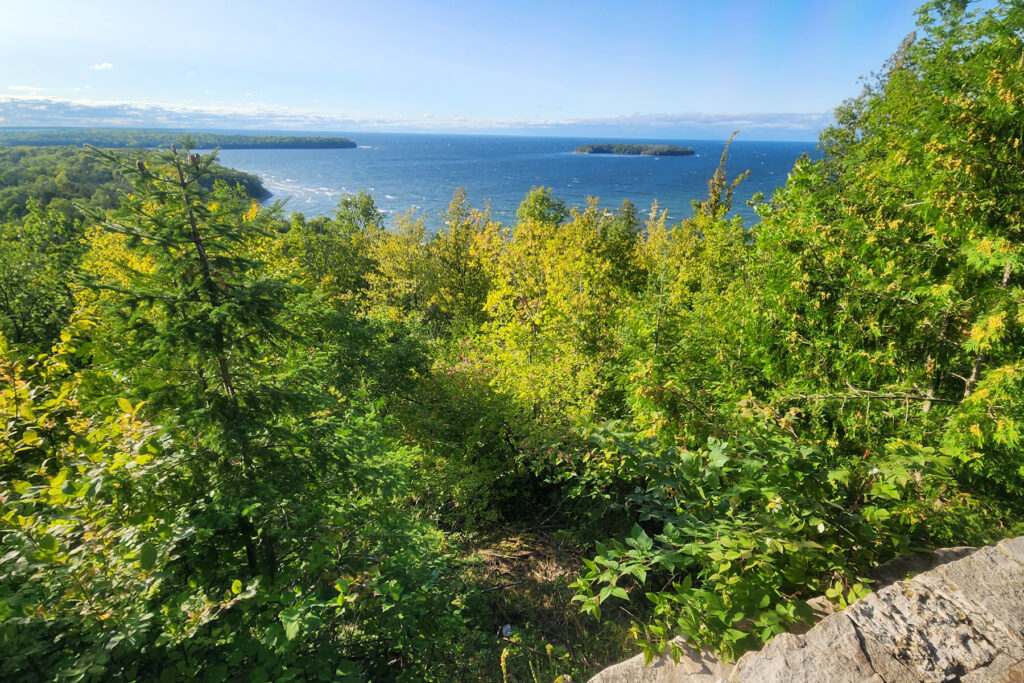 For music lovers, Door County offers an abundance of options, generally in the communities of Fish Creek, Sturgeon Bay and Egg Harbor. What could be better than enjoying a traditional fish boil dinner, followed by fresh cherry pie, and a knee-tapping live band?
Being avid hikers, we started off with a volunteer-led hike at Ridges Sanctuary in Baileys Harbor. It's the area's oldest non-profit nature preserve, with 1600 acres and five miles of trails, featuring mysterious, ancient sand dune formations, a wood walkway meandering through the lush, watery terrain, and two lighthouses built in 1869 to guide ships through treacherous waters off the nearby coast.
Our guide, Bill Wolff, a retired PE teacher, was someone we won't forget. In his serious, almost gruff way, he used his boundless energy and enthusiasm to convey the importance of both the Ridges Sanctuary's ecosystem, and that of the rest of the world, too. He told us he guides daily, and I recommend that you try to join his remarkable tour.
We particularly enjoyed hiking the two-mile Eagle Trail loop in Peninsula State Park, near Ephraim. Rated as a "difficult" hike, the root and rock-covered trail posed an ankle twisting challenge, but the scenery made it totally worthwhile. The trail led us down limestone cliffs until we reached the edge of the lake, at which point the trail wound near the shoreline through a conifer forest, past several impressive limestone caves and angular formations.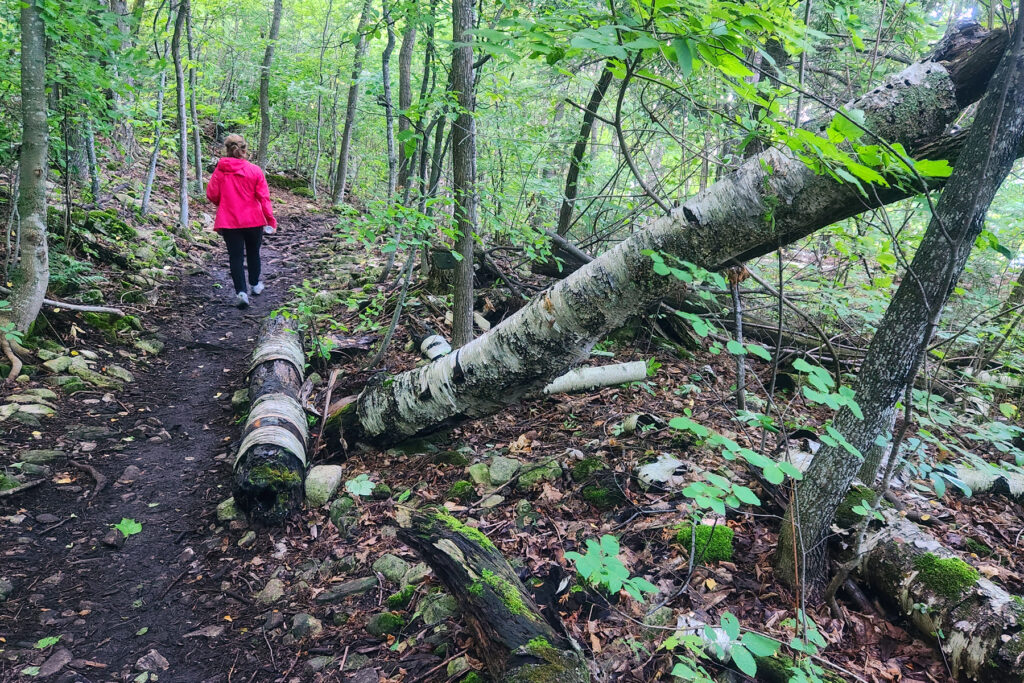 Dinner at Solago Restaurant and Tequila Bar in Sister Bay capped off our day. While we savored our high-end Mexican food and hand-crafted margaritas, a big screen TV with a "sunset cam" allowed us to hurry out just in time to watch the red sun dip below the horizon.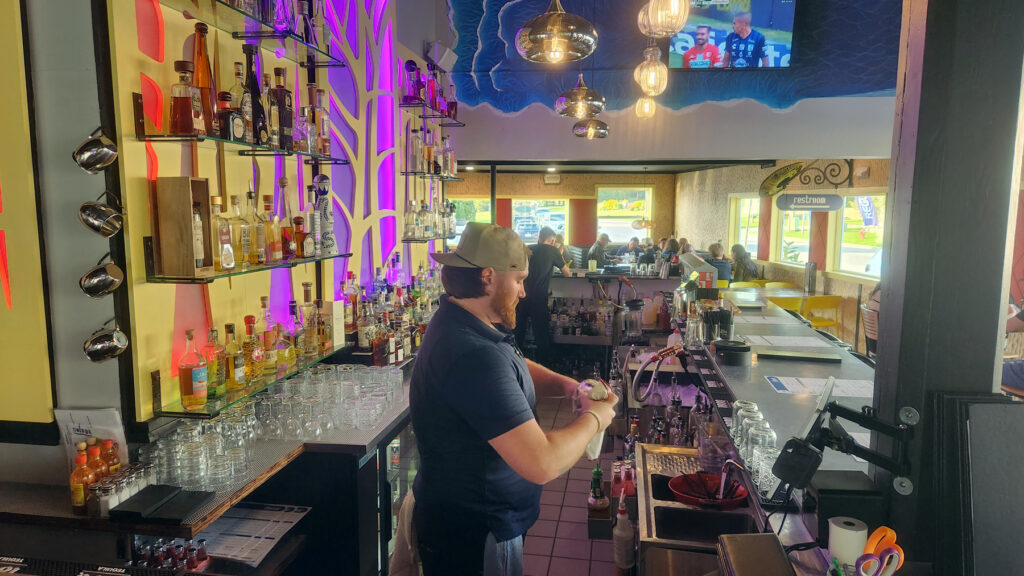 The next day was "island day." At the northern tip of the Door County peninsula are two popular islands, the 35 square mile Washington Island, and the much smaller Rock Island. Both are only accessible by ferry, and we began this part of our adventure by loading our car onto the Washington Island Ferry Line to reach Washington Island.
A twenty-minute drive led us to the picturesque Fragrant Isle Lavender Farm with over 30,000 lavender plants. In late August, the blooms were almost finished, but still enough remained for a must-have lavender field photo. Inside the Fragrant Isle shop we found an astounding variety of items that incorporated their lavender oils, including tea, baked goods, sachets and much more. Depending on when you go, check out the rows of brilliant yellow sunflowers in front of the nearby brick-red production barn for a postcard-perfect scene.
Next we drove to see one of the more spectacular and unusual beaches I've seen–Schoolhouse Beach. The beach was covered with bright, white polished limestone rocks that contrasted perfectly with the various azure hues of the crystal-clear lake water. We resisted the temptation to take home a polished rock souvenir because of a potential $250 fine!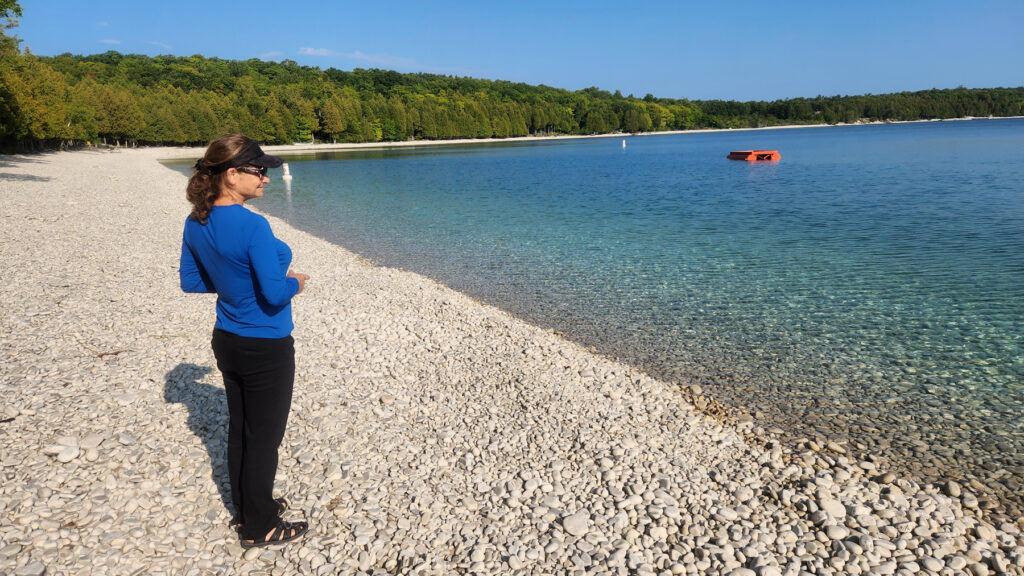 Because our final destination, Rock Island, was pedestrian only, we parked our car by the Jackson Harbor Soup & Sandwich restaurant, picked a chair by the water with a view of the island, and enjoyed an excellent lunch accompanied by Wisconsin's unique Spotted Cow beer.
Rock Island is relatively small but provided a serene way to spend an afternoon hiking on the 1.2 mile trail to the famed, old lighthouse, followed by a perusal of the Chester Thordarson Great Hall and Boathouse next to the ferry dock. It turns out that he owned the whole island from 1910 to 1945 and used it as a vacation retreat when he tired of inventing new electrical devices (he held over 100 technology patents and was a key figure in developing our modern energy transmission grid–who knew?).
Within the confines of that slender peninsula, we discovered why several million people travel to Door County each year. Abundant food and entertainment options, not to mention thousands of cherry trees and lavender plants, make Door County a delightful place to visit.
………………………………………………………………………………………………………………………………………………….
IF YOU GO:
Lodging: Parkwood Lodge, Fish Creek; www.Parkwood Lodge.com; 920-868-2046. Plain but comfortable, convenient location.
Food: Wilson's Restaurant & Ice Cream Parlor in Ephraim; www.wilsonsicecream.com; 920-854-2041. Fun atmosphere, genuine "old time" atmosphere, extensive menu.
Solago Restaurant & Tequila Bar, Sister Bay; www.solagodoorcounty.com; 920-268-4483. Attractive, next to boat harbor, excellent food and drinks.
Burton's on the Bay, Egg Harbor; www.alpineresort.com/butons/; 920-868-3000. Good food, great view of bay just a few yards away.
Jackson Harbor Soup, Washington Island; www.jacksonharborsoup.com; 920-847-2589. Good food and menu.
Prince of Pierogi Restaurant, Ephraim; www.princeofpierogi.com; 920-421-8619. Small, outdoor eating mainly, only Polish restaurant in Wisconsin. Talk to the owner, Krzysztof, if you want to be inspired by someone.
Island Popcorn Barn, Washington Island; www.islandpopcornbarn.com; 920-847-3444. Amazing variety of popcorn flavors—a must for popcorn lovers.
Activities:
Fragrant Isle Lavender Farm, Washington Island; www.fragrantisle.com; 920-737-5064. Great for photos, lavender souvenirs and small lunch.
The Ridges Sanctuary, Baileys Harbor; www.ridgessanctuary.org; 920-839-2802. Definitely worth visiting, especially if you get a tour with Bill Wolff.
Doug Hansen is a travel writer and photographer in Carlsbad, CA.
---